Most gamers probably know that milliseconds can really make all the difference in many games. But in order for you to be able to perform really precisely and, above all, consistently, you need the right conditions. This also includes the matching gaming mouse pad. Here you can find out what this must be able to do, why it is so important and how you can find the right model for your playing style!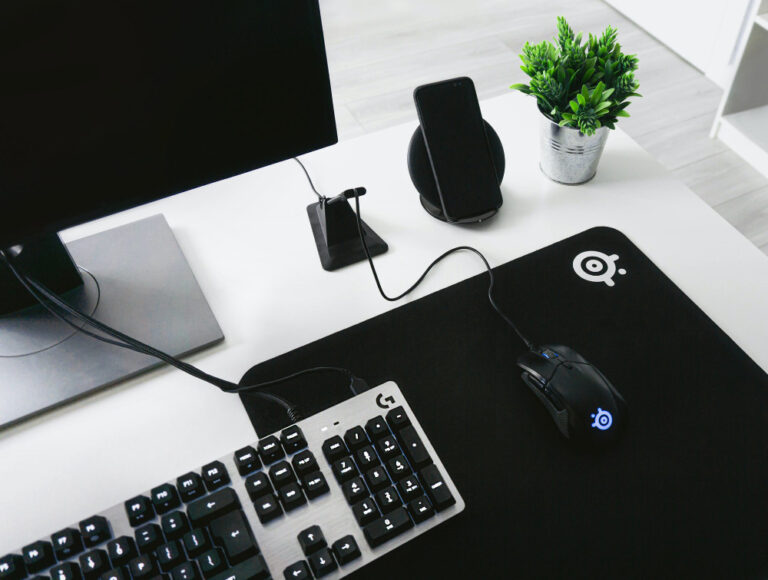 Why a gaming mousepad is part of every setup
In theory, at least the laser mouse can work on any surface . But practice shows that a good and, above all, tailored mousepad can make a world of difference. And we're not only talking – but also – about the fact that you can build your setup one-to-one in other places and still achieve the same results. Whether at the next LAN party or even at the tournament: that can be the decisive factor in the balance.
But a gaming mouse pad should also be used in everyday life and firmly anchored in place. Because this enables the laser or infrared sensors to perfectly scan the ground at any time and at the same time it is even. This minimizes possible delays and optimizes precession and handling.
In the first step, size and material are not yet decisive. It's really about creating an even surface . However, when choosing your mouse pad correctly, the two factors mentioned should be matched to the games you play and be comfortable for you. We'll explain exactly what that means in a moment.
Virtual Reality Glasses: A Vision Becomes Reality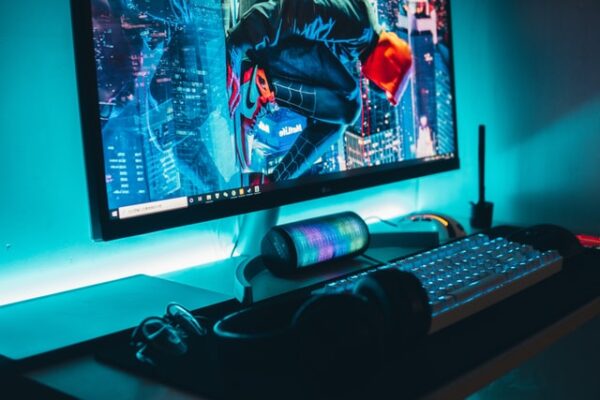 The material is crucial
Even if you could theoretically use your mouse on the pure tabletop, this often has some disadvantages. The wear and tear on the mouse gliders is decisive here . Because uneven, dusty or crumbly surfaces can significantly accelerate such deterioration. A gaming mouse pad, on the other hand, is always designed in such a way that it creates as little frictional resistance as possible and thus optimizes the service life, but of course also the handling of your mouse. In order for this to work, you can choose from different materials.
Textile gaming mouse pad: the all-rounder
Everyone knows that: the classic mouse pad consists of a non-slip rubber coating at the bottom and a soft layer of fabric at the top. However, there are countless different fabric variants that have been tested over the years. For gaming, options made from microfiber fabrics have become established.
These have the advantage that, on the one hand, they are nice and soft and can easily adapt to different surfaces and level out unevenness. In addition, the friction here – for one type of fabric – is particularly low, which enables a precise reaction. Both optical and laser mice usually work perfectly on this mouse pad.
By the way, the cloth mouse pads are relatively easy to clean . The best way to do this is to put some warm to hot water in a closed sink and add a little detergent. Let the underlay soak briefly and then rub the two sides lightly against each other. You can also use a gentle sponge to get rid of coarser dirt. Now just let it dry and it should look like new again.
Fixed mouse pads: Faster on the move
In addition to the soft fabric mouse pads, you will also find some variants made of hard plastic or even metal (mostly aluminum) on the market . The plastic option was developed for laser mice in order to be able to use the full spectrum of the sampling rate. Because the smooth surface offers less frictional resistance than the microfibers, but thanks to the macrostructure it is created in such a way that it does not damage the mouse glider.
Occasionally you will also find aluminum mouse pads on the shelves. Although these look particularly elegant and promise an extra smooth surface and thus optimal responsiveness, they have some disadvantages. While they cost a pretty penny, their surface texture isn't perfect for gaming either. Because they are often too smooth, which makes it impossible for the sensor to recognize small differences. We therefore generally advise against this option. The same applies to glass, by the way.
In general, these hard mouse pads are usually only suitable for laser mice . Here – provided you have a sophisticated structure – there are also some advantages that speak for the purchase. As described above, the smooth surface offers little resistance and is also very easy to clean – by simply wiping it over with a cloth.
Silicone mouse pads: the best of both worlds?
If you are looking for a gaming mouse pad these days, you can't avoid this variant: pads with a silicone coating. Because the market leaders in gaming rely on the smooth, yet soft plastic . No wonder, since at first glance it seems to combine the best properties of the hard plastic and fabric variants. But what is it?
In fact, the silicone has many advantages. The surface structure is optimized for both infrared and laser mice , so you can expect the best handling. The scanning takes place here precisely so that you can also take full advantage of high DPI settings. At the same time, the pad still feels gentle on your palms for a long time – the friction is minimized here so that you can play intense shooters or MOBAs for several hours.
But that's not all: silicone is one of the most durable substances . Investing in such a mouse pad, which is already not very expensive, is worthwhile. This is not least due to the fact that it is also very easy to clean again if you should have spilled something on it. A little water and soap are enough here. Some variants can even be put in the dishwasher or washing machine.
The gaming mouse pad: which size is the right one?
From variants that just fit your own mouse to entire mouse mats, you have countless options for a gaming mouse pad in front of you. That can be overwhelming. But actually choosing the right size is not that difficult and should largely be tied to the games that you play regularly.
For high-DPI games: mouse pads up to 30 cm
The rather small mouse pads move around 20 x 30 cm (+/- 5 cm). Many variants of this are mainly designed for office use. Because most people, whether consciously or not, work with a DPI around 1,000 . This means that the mouse pointer moves relatively quickly across the screen, even with small movements.
Such a setting can be very useful for some games. We are talking about the high-sense games here. And some players themselves find such an attitude simply better. If you are one of them, then the small mouse pads are definitely suitable for you. Are you still unsure? Then it can be said in general that (MMO) RPGs and some strategy games benefit from a high DPI.
For low-sense games: Between L and 3XL
Do you like to play FPS games, shooters or MOBAs ? Then you are more likely to belong to the groups that prefer a lower DPI. Because movements that are too fast can lead to a decrease in your accuracy. Rather, the reactions should be precise and on-target. This can also mean that you have to move your mouse several inches.
Of course, the question remains whether it has to be the XXXL mouse mat that covers the entire desk, or whether the 50 cm option is sufficient. However, you can only decide that yourself. For many gamers, a large mat brings not only comfort, but also aesthetics, as there is also space for a keyboard and headset.
Gaming mouse pad ergonomics: what to consider
It's not uncommon for us to sit in front of our PC for several hours and gamble. During this period in particular, it is important that we take care of our joints, muscles and tendons . With the mouse pad, this means above all that you should pay attention to the height. Because in the best case, your forearm should be in a straight line with your wrist.
So the hand doesn't have to be tensed just because you want to move the mouse. This means that the difference in height between the mouse pad and the table should not be too great. As a guide, you can remember 5 mm here. Everything below is usually harmless. Of course, much flatter versions are particularly gentle on the wrist.
Even more features: mouse calibration, LEDs and Co.
There are now some mice that have specific software attached to them. Here you can individually choose how your mouse pad is made – of course, this works best with a specially designed variant. The scanning technique of the mouse is then adapted and optimized accordingly. Such a precisely calibrated input device offers you more gaming comfort and maximum precision. Are you still looking for the right variant for you? Then read our guide to gaming mice .
The latest trend is also LEDs on the gaming mouse pad. If you are not playing permanently in the dark, however, these have no influence on the gaming experience and are more of a visual gimmick. Induction charging pads, on the other hand, are more practical . These are connected to the electricity themselves and thus provide an electromagnetic field. If you put on your wireless mouse that is suitable for such a charge, it charges automatically.
So you see: the possibilities are quite varied. So it is not a problem that you not only adapt your mouse pad to your style of play, your games and your comfort, but that it also has some (more or less) practical additional functions.