Whether your own computer has become loud or just slow over time , both can just be annoying in everyday use. There is often a very simple solution to the problem: Simply clean the PC once. We'll tell you now how it works, which tools you need and what you should pay attention to!
Why, why, why – is cleaning important?
Even cleaning your own four walls can be really exhausting and annoying, believe us, we can understand that. However, it is important that you also include your computer from time to time. The dust and dirt that automatically develops over time not only look unsightly, but can also have serious consequences – even if you are not allergic.
If you never clean your computer, more and more microparticles will collect in the housing and on the components. These can stick and clog things . After a while, the fan no longer achieves optimum performance and the temperatures rise continuously. In the long run, these can even cause permanent damage to the expensive hardware. So grab the feather duster beforehand!
Gaming Mouse Pad: For More Precision And Better Aim
When and how often do I clean my PC?
First of all: It is not possible to give a general estimate of when and how often you should clean your PC. Rather, it depends on the frequency and duration of use . If you sit at your computer every day, you will have to clean your keyboard and mouse as well as the screen more often. The inside of the case, on the other hand, usually lasts longer due to the constant fan activity than if the computer is only used occasionally.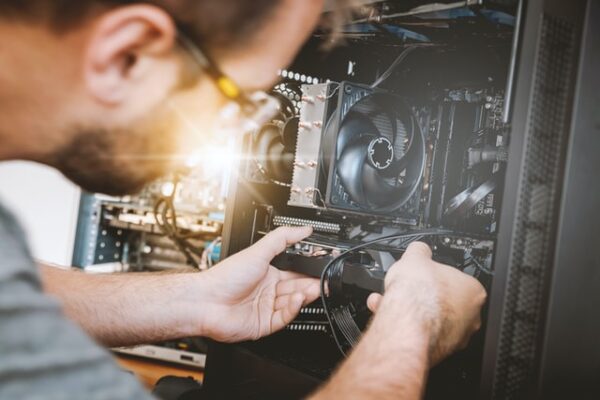 But especially the office PC , which different users best use, should be thoroughly cleaned once a month. This includes the disinfecting cleaning of the keyboard, mouse and screen. Because germs and bacteria like to collect here, which are transferred to the surfaces by the fingers or, for example, by sneezing.
It may look different for a single-use gaming PC , but we recommend that you clean the components regularly for hygienic reasons. You should also take a look inside the case about once a month. If there is visible dust, it is time for cleaning. It is best not to make your computer noticeably slower or louder in the first place. If that is the case, however, the point for action has finally been reached.
Dust off the pc, but how?
Whether as a preventive measure or for an acute occasion – if you have decided that you want to clean your PC, there are a few things to consider. Because the inner workings of your computer are particularly sensitive and do not necessarily want to come into contact with moisture. We want to deal with precisely this problem first. We'll talk about cleaning the keyboard, mouse and screen in another post.
Aids for dust control
If you want to get rid of the annoying dust inside the housing, you can use different aids. It is important that the electrical hardware components do not come into contact with moisture , as this can quickly damage them. Instead, you can use:
vacuum cleaner

Compressed air cleaning spray

Hand bellows
With these instruments, however, you should always pay attention to the air pressure or the suction force . These must not be so strong that they put the fans into turbo gear. Because if the fans are overloaded, this can in turn lead to damage and then the parts must first be replaced. So always keep an eye on the turning speed.
When it comes to detailed cleaning , a brush with soft bristles can also be helpful. A toothbrush can also be used if necessary. A slightly damp cloth is also suitable for the housing itself – but again, be careful not to come into contact with electronic parts!
The first step: the rough cleaning
If you want to clean your PC, you first have to remove the coarse dust . The easiest way to do this is with a vacuum cleaner. First of all, check that your computer is really switched off. It is best to also throw the circuit breaker or take it off the power completely.
It is best to use the brush attachment on your vacuum cleaner for vacuuming . This is gentler and you don't run the risk of leaving scratches on the components. In addition, you should set the vacuum cleaner on the lowest level. Now gradually dedicate yourself to the individual parts:
Vacuum 

out the power supply unit

 : To do this, hold the vacuum cleaner against the housing from behind and vacuum the inside of the power supply unit.

Clean the housing interior

 : Open your PC case and suck gently (especially respect for loose screws and cable set) the bottom and side walls from.

The fan dust

 : At best, should the fan does not rotate while vacuuming. You can do this by installing a small barrier made of wire or a piece of wood.

Clean hardware

 : You can also go over your hardware (i.e. mainboard, graphics card and RAM) very carefully with very low suction power and a particularly fine brush attachment.
By the way: If some dust simply does not want to be released, the compressed air spray or the bellows are used. These stir up the stuck dust and make it easier for you to suck it in. If that's not enough, in the next step we will explain how you can get rid of stubborn dirt.
An eye for detail: this is how PC cleaning works
Once you have removed the coarse dust, we now go into detail. Because the fine particles are often hidden in the small crevices of coolers and co. To get rid of them, it is best to remove the individual components and study them in detail.
To do this, you can use a very fine, high-quality (important so that the bristles do not fall out and remain behind) brush into the affected areas and sweep them out. It's best to be patient, because this work can quickly become very tricky.
Did you find a particularly dusty fan or a piece of your case? Then you can also work with a soft toothbrush . You can also use some washing-up liquid and warm water to clean mechanical components. Make sure you let these parts dry out before you turn your computer back on.
What else is part of cleaning your PC
If you have cleaned your computer thoroughly, you can also take a few measures so that it does not have to be necessary again so quickly. A dust filter can help significantly here . This is usually mounted on the case fan and catches the fine dirt particles.
However, you should clean these filters regularly so that they can really serve their purpose and do not block the air supply . But since these are mechanical components, you can simply rinse them off with a little water, let them dry well and then reinstall them.
Cleaning your PC will also be easier if you minimize the areas on which dust can collect. Above all, this means getting the tangled cables under control, because the unsightly deposits tend to collect on the little helpers. Simply use zip ties to minimize the exposure to dust.
What to do if the computer stays slow
A thorough cleaning of your PC and its components can work wonders, as the settling dust can eventually lead to malfunction. It blocks the air supply, slows down components and can overheat. These are of course consequences that we want to prevent and, as described above, it is not difficult at all, it just requires a little tact and patience.
However, if you find that your PC remains slow, this can have other causes besides the pollution . At this point, thermal throttling, which we dealt with in another article, should be mentioned. This happens when the temperature transfer is no longer ideal. A feather duster doesn't help here, but you can counteract that too.