PC components around which fish swim, microwaves in which a real monster PC has found its home and of course many colorful LEDs that illuminate the whole thing in an exciting way. Have you ever seen these crazy pictures? All of them are – albeit particularly unusual – examples of case modding. How this actually works and what is possible if you want to put your gaming PC in the limelight at home , we'll tell you now!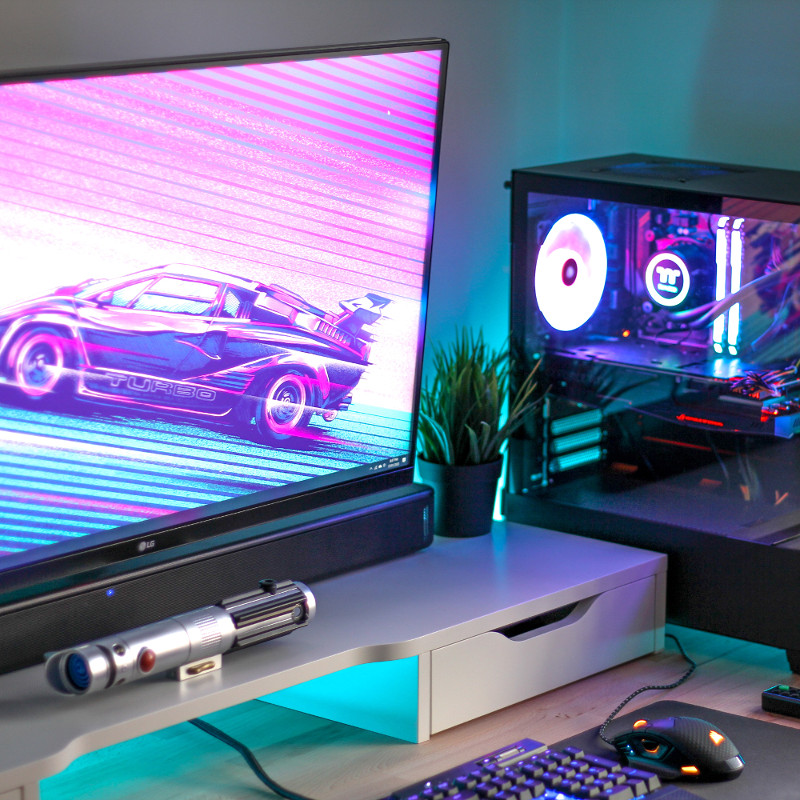 What is case modding anyway?
Anyone who gamble has probably heard of PC modding or computer modding. Both terms basically refer to the same phenomenon. Roughly broken down, modding is derived from the English "modification", meaning change. And that's exactly what it's about: changing the look and technical components of a computer.
On the other hand, case modding specifically deals with the design of the housing – the case. For this purpose, the various components are set in scene using LEDs, for example, and the outer and inner walls as well as the various components are painted and given logos.
So that you can really marvel at this spectacle while gambling, the right housing must of course also be found. Plexiglass is often used to make the inside of the PC visible. Sometimes even the most diverse (everyday) objects are modified into a PC case with a little tinkering – such as the microwave mentioned above. This process in turn is referred to as Case Construction (also: CaseCon for short).
How To Find The Best Gaming Mouse | The Most Important Tips
The heart of PC modding: the housing
Do you want to know which doors are open to you when it comes to case modding? Then we would like to give you a hand. But before we start designing the interior , we have to lay the foundations. This forms the housing itself, because this will later house all LEDs, cables and components. When choosing – or designing – you have a number of options. We'll reveal which ones!
Always a great view
For many, the glass window on the side is essential so that the case modding is really worthwhile. However, since this often has to withstand the higher temperatures that arise with the high performance of the components, it should ideally be made of Plexiglas . Because real glass is unfortunately often not suitable for this environment.
The synthetic glass, on the other hand, has exactly the right properties for the gaming PC: It is particularly stable and can withstand extremely cold as well as extremely warm temperatures that can arise in the case. In addition, it is very easy , which is particularly noticeable when you visit a LAN party. Speaking of transport: The acrylic glass is also extremely break-proof. But the glass replacement still has one disadvantage. It is quite sensitive to scratches. So, especially when cleaning and transporting, make sure that you do not leave any permanent traces.
Of course, what is particularly interesting for you with case modding is that it is wonderfully easy to individualize. The manufacture can different colors , and even gradients are produced. It can be made transparent or milky – depending on what you have in mind! By the way: custom-made parts are often available for comparatively little money.
From anthracite to cyan: color design
It is not just the window that defines the future appearance of your housing, the color is also essential. Since most cases still come in black, white or maybe even gray, it can make sense to lend a hand here. This is particularly easy with the help of special foils or stickers . You can often purchase these and are adapted to the standard sizes of the various mini, midi and maxi towers.
Of course, you can also design your own stickers – for example with the logo of your new esports team . Or what is your favorite game? You will often find different stickers for case modding with their logo, your favorite characters and Co. If you don't find the right one, you can order it from the printer of your choice.
However, the results become more spectacular and individual when you start painting yourself . To do this, you must first thoroughly clean the surfaces to be colored and lightly roughen them with sandpaper. Then you walk evenly around the housing with a spray bottle and from a distance of about half a meter. Et voila: Your individual case has been created. Incidentally, it is best to prepare patterns, logos, etc. beforehand with a stencil – this makes designing much easier for you and prevents mistakes.
Unusual and individual: modding components
In addition to the housing, the existing components can of course also be designed individually . While this is very difficult with the mainboard and should really be left to the professionals, with a little basic knowledge you can trust the graphics card and the cooling.
While the GPU usually has fans mounted on the underside, the surface usually consists of a smooth plate. No connections should lead to these, then you can simply repaint them . You proceed similarly to the rest of the case, but make sure that you mask off the sensitive partitions. Don't you dare Then look around carefully before buying. Because most graphics cards are available in different versions from different manufacturers. One of them will surely fit your setup.
The same applies to water cooling. Because while it still has technical advantages over conventional fans – as we have also highlighted in this article – it is an important component, especially in case modding. Because often the liquid can be easily colored and is sometimes even pepped up with fluorescent substances. This creates a real, individual eye-catcher!
For the right ambience: gaming lighting
We have just mentioned the fluorescent liquids in water cooling. But that doesn't have to be the only glowing component. Because the housing with the right LEDs becomes a real spectacle . This part of case modding is roughly summarized as light modding. Even if you have bought a finished case, you can give it an individual look very quickly.
This is particularly easy with special LED strips or chains. These are often simply glued into the housing and provide indirect light . The power is either supplied directly via the mainboard (if it has such a connection) or operated via a battery. You only have to decide beforehand whether you value an RGB color change or whether you want to commit yourself to a color.
For more highlights you can also use fluorescent tubes and give your housing a three-dimensional flair. Another variant are LED fans. These are available for the CPU as well as for the graphics card and as a case fan. Ideally, they can all be programmed separately and give your case exactly the look you want.
Well hidden: hard drive and cable management
Unfortunately, even the most beautifully illuminated housing only works if the cable management is right. After all, who wants to stage a tangled cable? That's why we want to give you a few tips on how to make your case look tidier:
Double back wall

 : Insert a second back wall through which you can thread cables. You can hide it behind her and move it from A to B.

Cover for the power supply unit

 : The cables all lead into the power supply unit, so this should also be hidden so that they are not visible again at this point.

Modular power supply

 : A modular power supply is recommended so that the cables can be reduced to a minimum.

Cable sleeving

 : You can buy sleeves for your cables, usually made of polyester. You simply pull this over one or more cables. That looks nicer than pure cable ties and gives you additional options for color design.
What you need: case modding tools
Do you want to tackle your project now? Whether you want to make a letterbox for your new case or just want to attach some LEDs – depending on the difficulty, you will need different case modding tools. We have put together a rough list for you here:
General: folding rule or ruler, cardboard & paper for masking

For 

gluing

 : squeegee, cutter knife

For 

painting

 : protective goggles, sandpaper, if necessary 

painter's

 tape & stencils, spray can (alternatively: brush, sponge and / or painter's roller and paint)

To work on 

metal

 : metal scissors, hacksaw, file

For the 

LED strips

 : scissors
You can achieve even more individuality if, for example, you have access to a 3D printer and print entire walls yourself. A CNC milling machine is also perfect for processing the metal and plexiglass. So if you want to design your own steampunk, military grade or cyberpunk case, you should address the relevant trades.